P&ID – Process & Instrumentation Designer
Intelligent Process Flow and Piping & Instrumentation Designer
P&ID

– Process and Instrumentation

Intelligent P&ID and PFD diagrams where the symbols are linked to database components resulting that your full Bill Of Material List of all Equipment and Stream information are available as reports.

The Database Component Tags can be linked at any time with the Symbol from where changes can be made either on the diagram or on the database, thus Anytime Intelligence. These components can be easily created within the application or can be imported from Excel files using existing information, thus no re-typing required.
P&ID application has Customizable Libraries with Customizable Symbols meaning that one can add more Library folders and can very easily add custom symbols to the existing symbols shipped with the software.
Within the P&ID application one can also create interlock logic with the Cause and Effect module, by select and dragging the component onto the Cause or the Effect portion of the window, for example to trip a motor and close an inlet valve when the level in the tank is high. It will generate a report from this information to be used by the PLC/DCS programmers.
There are also tools to calculate the reducer sizes for example 6 to 4 inch reducer or the line size for a valve or for a pump.
Comments can be added during HAZOP studies or as additional information on a diagram. These comments will not print when the drawing is printed to ensure good quality documents.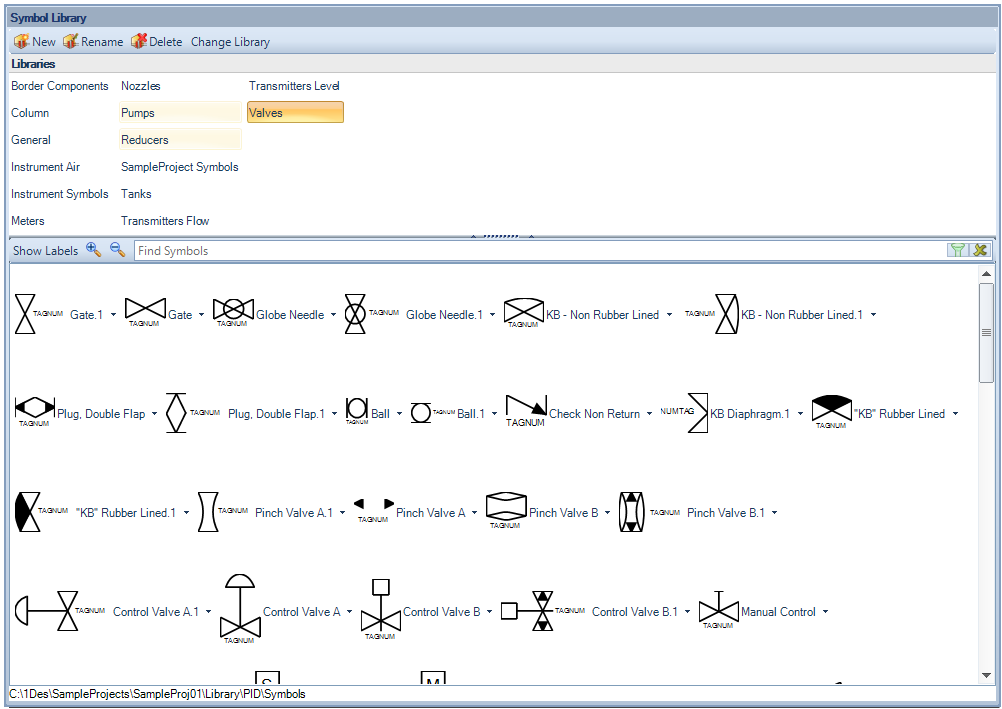 SYMBOL LIBRARies with related symbols
When selecting a linked symbol on a diagram, all database Properties are visible displaying shared information for Process, Mechanical, Electrical or Instrumentation departments. Thus all required information can be entered on the property page and is visible all the time to ensure good design, planning and maintaining of the process. 
Additional Properties can be added at any time without the risk that the diagram will be cluttered.
DesSoft P&ID has many other features like:
User Access Control to the application and data. 

Other modules like Table Viewer, i.e. spreadsheet view of the data,
Query designer to create accurate custom information lists,
Datasheets where the Datasheets module can share Equipment specification information between the Process, Instrumentation and Electrical departments.
Customizable Report Builder with many pre-defined reports,
Change Monitoring,
Intelligent Redlining with Workflow Process where pre-defined users will be notified for every change and where each workflow can be approved or declined. These users can be across multiple engineering disciplines.