FDES – Fieldbus and Instrumentation Designer
All the Right Features for the Right Design
FDES

– Instrumentation
FDes is designed to create the bulk Instrumentation documentation, needed to design and maintain any process plant like Loop and Termination connection diagrams, Instrument, Cable and I/O schedules and various Costing Reports.
FDes has Bulk import tools to "kick start" any project or to assist with reverse engineering for existing plants.
FDes has multiple export tools to interface to other systems in your business world.
FDes has the unique capability to auto-generate Loop Connection and Termination Connection diagrams from the database information, thus for the same effort to populate your Excel file and still no drawings, one can have the mentioned connection diagrams as well.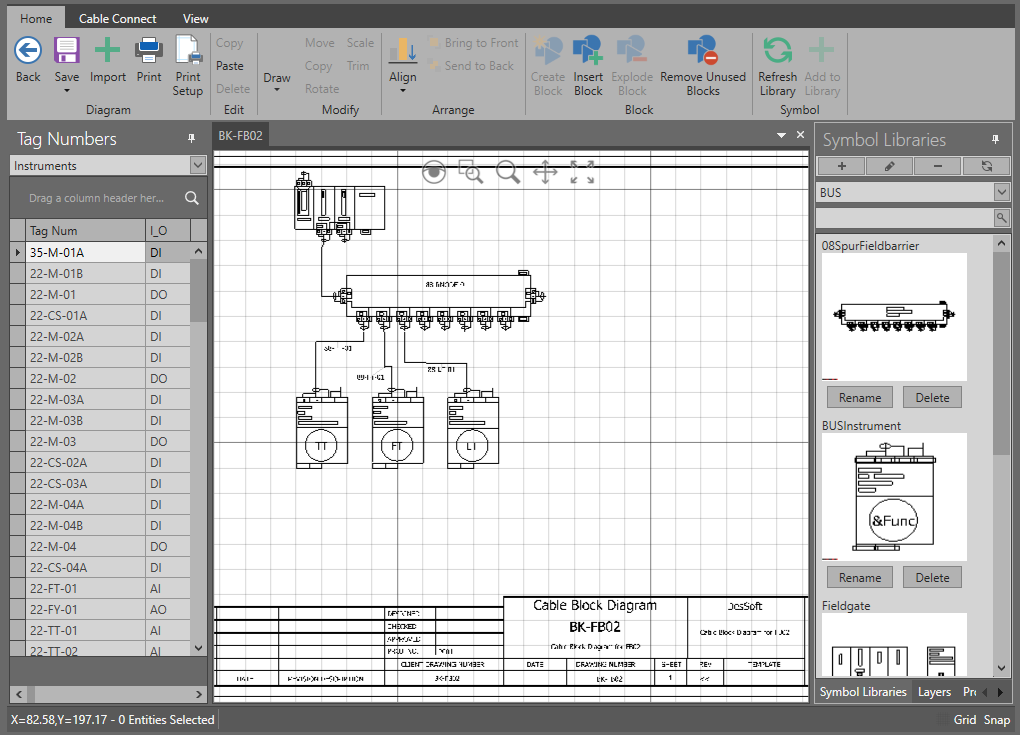 FDes has a Network Designer module that is using customizable symbols from customizable libraries.
The Network designer can be used for any Fieldbus network like Foundation Fieldbus, ASi bus, PROFIBUS, etc as well as for Ethernet networks.
These symbols can be linked to the database items like Instruments, Cables, Panels, PLC/DCS Cards, etc. thus ensuring that information is in a central place and re-used on multiple documents with the huge benefit of making a change in ONE place and all documents are up to date.
The symbol placing and linking is done through simple drag-drop functionality.
Auto-generated drawings are generated from the information in the database, no lines need to be drawn.
Speed up the design by bulk creating loop drawings and termination connection diagrams.
A huge advantage of auto-generated loop diagrams is that the drawing is accurate according to the design information, meaning that if there is a Pratley box added, the next time the drawing is opened, it will display the new connections without the user need to select a different template to display the new information ensuring accurate documentation.
Other documents that can be created in FDes are: 
Datasheets

Hookups

Cable Block diagrams

Calibration sheets and Cable Pull Slips

 Customizable reports like Instrument, Cable, I/O, Document Register, etc. lists.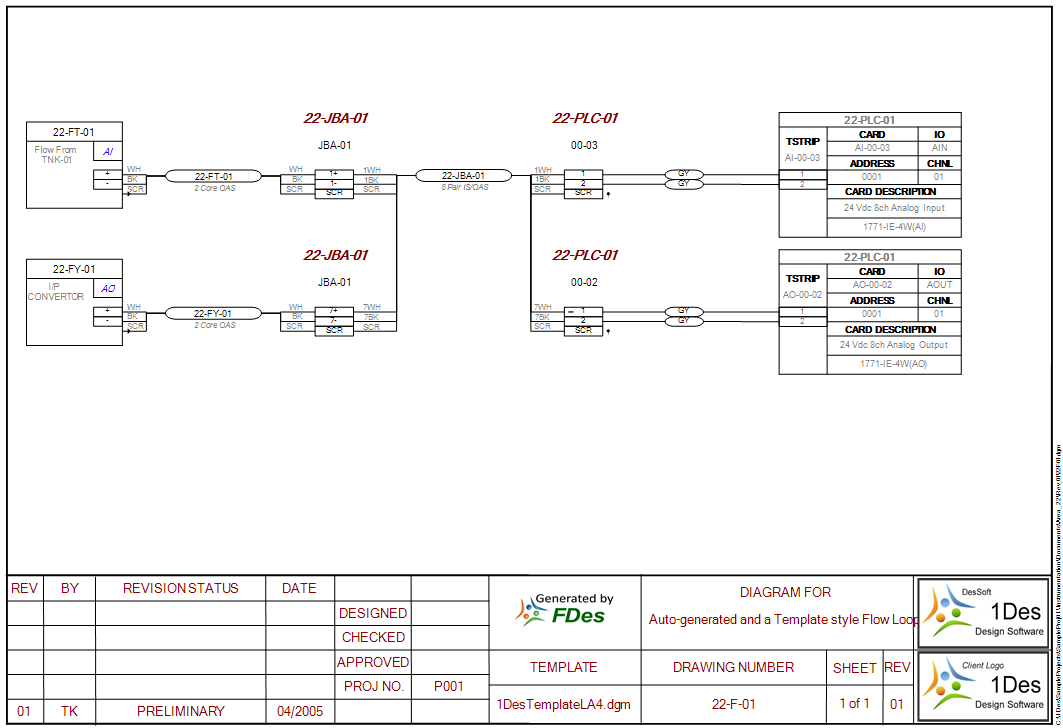 Use the component explorer to design your loop by grouping the instruments in the loop, creating the cable details as well as the terminal strip details.
The same can be used to design all components in a PLC panel, Field panel, DB panel, etc.
Further functionality in FDes:
Detailed wiring for instruments, cables and panels.

I/O allocation.

Change Monitoring.

Revision handling.

Intelligent Redlining with a Workflow Process where predefined users will be notified for every change and where each workflow can be approved or declined.

Interfaces to PLC/DCS and SCADA systems.

 User Access Control to the application and data.

and more…